Complete Guide to Things to Do in Puerto Vallarta
Destinations
02/06/2023
Complete Guide to Things to Do in Puerto Vallarta
Where is Puerto Vallarta? This city is located in a privileged place on the Mexican Pacific, in the state of Jalisco. Its
subtropical climate
and humidity, being the wettest months in July, August and September (which coincide with the rainy season) and the driest and coolest months in December and January. Therefore, the
best time to visit Puerto Vallarta
will depend on your preferences:
January-March
: pleasant temperatures and little rain, which causes the number of tourists to increase and is more expensive.
April-June
: mild temperatures continue and humidity and rain begin to increase. An advantage? Tourists and prices drop at this time of year.
July-September
: the hottest and most humid season, if you like the heat it is the best time and, in addition, you will be able to enjoy the offers that are offered during this period.
October-December
: pleasant temperatures and tourists return, if you plan to travel at this time, plan your trip!
What time is it in Puerto Vallarta? The time will depend on where you live, if you travel from the United States there are different time slots, taking 7:00 am as a reference, in Puerto Vallarta:
8:00 a.m. in Washington,
7:00 a.m. Chicago,
6:00 a.m. Denver and Phoenix,
5:00 Los Angeles.
Top 5 things to do in Puerto Vallarta
Puerta Vallarta is a city that offers
activities of all kinds and for all audiences
, whether you are a fan of water sports or you like to spend the day walking or enjoying the beach with your family. Do not miss the guide that we have prepared of all the things you can do in Puerto Vallarta!
Relax on the best beaches in Puerto Vallarta
There are many beaches in Puerto Vallarta (Playa Olas Altas, Playa de Los Muertos, Playa Las Pilitas, etc.), but two stand out for their location:
Las Caletas
: private, tropical beach with golden sands (if you want to go, you will have to find a tour operator). Las Caletas is only accessible by sea, as it is surrounded by jungle and mountains. In it you can enjoy local gastronomy, various water activities and its wild fauna.
Hidden Beach
: This beach is part of an ecological reserve and is located in the Marietas Islands, they say it is one of the most romantic islands in Mexico.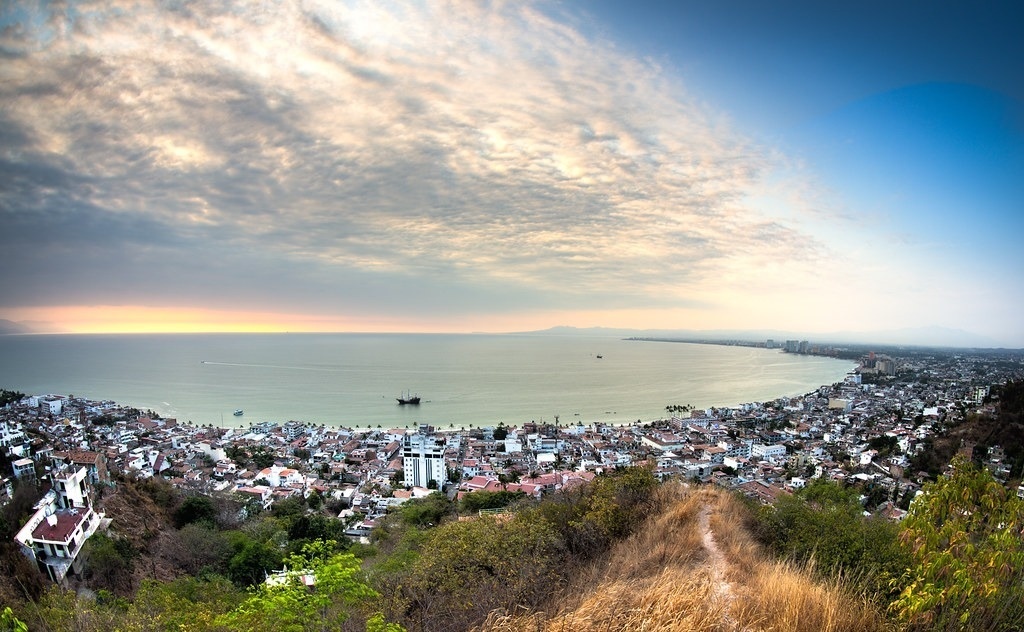 Discover downtown Puerto Vallarta
Another thing you can do in Puerto Vallarta is walk through its streets and
boardwalk
, where you can go through its
stone arches
and see the show of the Papantla Flyers. You can't miss it! Also, you can visit the
Church of Our Lady of Guadalupe or the Pier of the Dead
.
Ocean Adventures: Snorkeling, Diving, Surfing, and/or Swimming with Dolphins in Puerto Vallarta
Water sports could not be missing in this city bathed by the Bay of Banderas. Puerto Vallar has several ecological reserves, where you can see all kinds of fish, turtles and/or humpback whales. If action is your thing, you can also
swim with dolphins
or
surf on the beaches of Puerto Vallartan
.
Outdoor activities: hiking and/or golf in Puerto Vallarta
br> If you are a golf lover, you are in luck, discover the
beauty of the famous golf courses
in Puerto Vallarta and Nuevo Vallarta, which are characterized by being surrounded by tropical vegetation, views of the Sierra Madre and the Pacific Ocean.
Golf is not the only outdoor sport that you can practice, you can also go
hiking
with family or friends (there are routes for all levels). Discover the walks to the viewpoint of La Cruz or to the Botanical Gardens of Vallarta.
Puerto Vallarta Romantic Zone
There are many romantic corners in Puerto Vallarta, one that we mentioned earlier was La Playa Escondida. However, in the center of the city is the Old Vallarta or
Romantic Zone
. This neighborhood is ideal for lovers, as it preserves the
essence of a fishing village
. Discover its narrow streets, murals, outdoor benches, its charming cafes and restaurants.
The
beaches and sunsets of Puerto Vallarta
are the favorite place for many couples to get married. If you are thinking about it, ask the
Park Love
team, they will be happy to tell you all the details and offers they have prepared for you.
All-inclusive at the Grand Park Royal Puerto Vallarta Hotel
Hotel Grand Park Royal Puerto Vallarta is a
5-star hotel on the beach
, you can get a massage, swim in its outdoor pools or on Las Gemelas beach. In addition, if you book your all-inclusive plan you will be able to taste all kinds of dishes (both traditional and international) and drink cocktails or local drinks.
Visit us and live a 5-star experience!