Walk through the Art Deco District of Miami
Entertainment
30/05/2023
Walk through the Art Deco District of Miami
Before taking a walk around this famous neighborhood, do you want to know the characteristics of art deco or decorative art? This artistic movement
originated in France
and became popular during the period from 1920 to 1939 (in some countries, even up to 1950). Art Deco
is inspired
by the
first avant-garde, the Bauhaus school and the archaeological discoveries of Egyptian art
.
Miami's Art Deco District is listed on the 1979
National Register of Historic Places
. No surprise, as this district spans about 30 city blocks and features
over 800 Art Deco-style hotels and residential
buildings (perfectly preserved). They are buildings with
symmetrical, fractional and geometric shapes, in pastel colors, with neon signs and many ornamental elements
.
The most emblematic buildings of the Art Deco District in Miami
The Art Deco District in Miami, also known as the Architectural Historic District, is located at the
southern end of South Beach
. Our tour will visit the most important sites located between Ocean Drive, Collins and Washington avenues.
You are ready? We start with the
Art Deco District Welcome Center
, where you can get information, guides and buy some souvenirs. Next, we go down Ocean Drive to visit the
Park Central, Colony, Victor, and Leslie hotels
(among some of them). Thirsty? We can sit in any bar to have a cold drink before continuing with our tour.
Are we ready to continue? Now we head to Washington Avenue to see
Miami Beach Main Post Office and Astor Hotel
. There is little left to do, we take Collins Avenue, where we will find
Haddon Hall, The Hotel and Essex House
. Do you feel like ending the walk resting on the beach? Let's go and take the opportunity to discover the
colorful guardhouses
.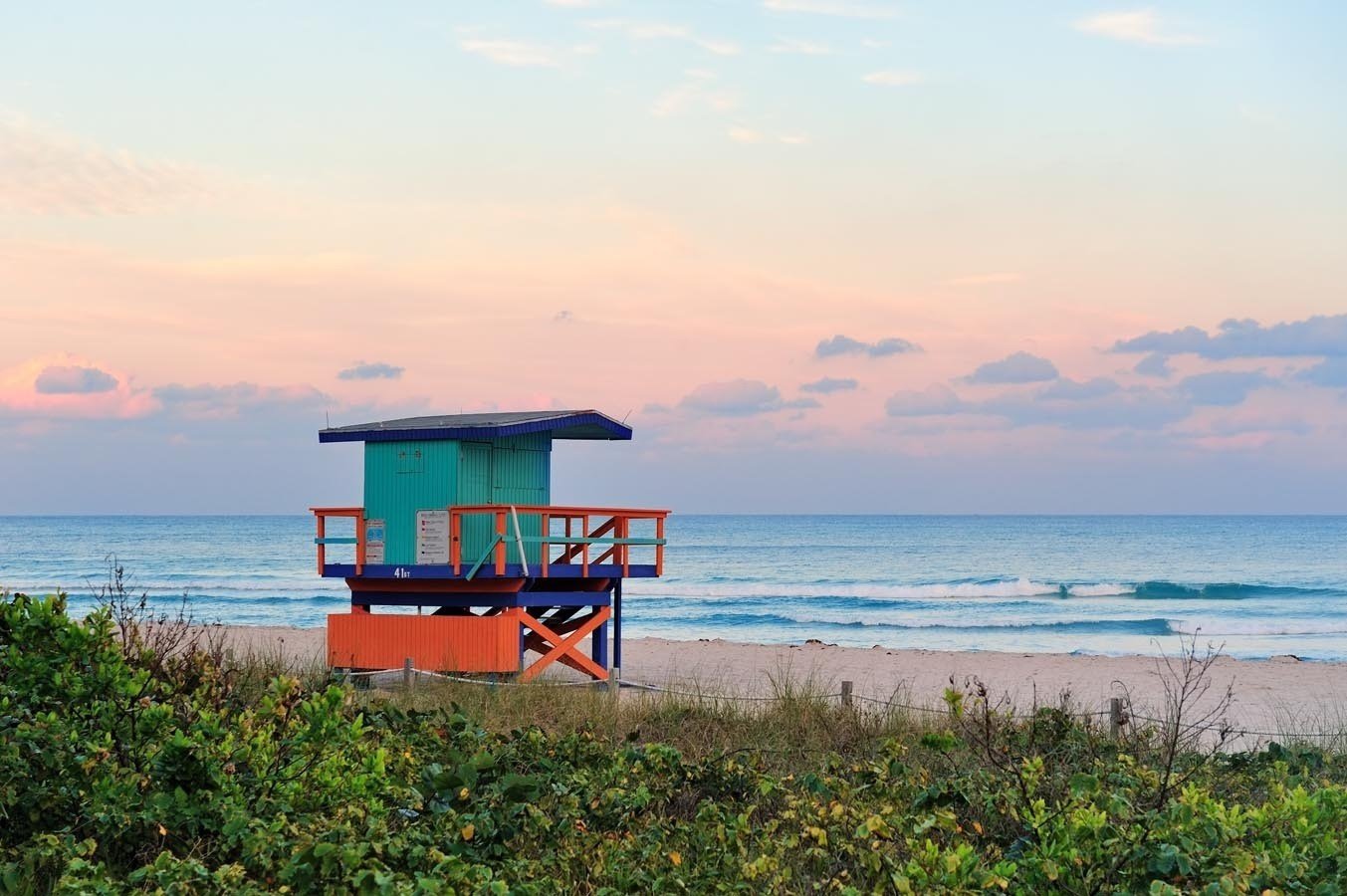 Visit the Art Deco Museum
The Miami Museum of Art Deco
,
located
at 1001 Ocean Drive, houses
three permanent and one temporary exhibitions
. Permanent exhibits run through Miami's different architectural styles: Art Deco, Mediterranean, and Miami Modern (MiMo). This museum has models of buildings, which allows you to appreciate their features and ornamental details more closely.
This museum
created by MDPL
(Miami Design Preservation League) wants to teach its visitors the
architectural heritage, its conservation and the community culture
of Miami. In addition, it is a Welcome Center, that is, they can help you book tours, hotels, adventures and much more.
A very interesting project produced by this museum is
Miami Beach Visual Memoirs
, which exposes the biographies of people who have been part of the history of Miami Beach. If you have a couple of hours to spare, don't miss it!
Enjoy the art deco festival in Miami
Art Deco Weekend
is a festival that is held on Ocean Drive and Lummus Park, it has
more than 45 years
behind it and is
organized by MDPL
. This event, which lasts three days, aims to preserve Art Deco and the buildings that represent it in Miami, so that future generations can continue to enjoy this legacy.
During the festival several
tours
are organized, in which they will explain and learn about:
• The architecture of the buildings on Ocean Drive,
• Hotels, bas-reliefs and terrazzo floors,
• Night tour of art deco buildings and neon lights.
The
offer of activities
is not limited to tours, you can also enjoy: live music, exhibitions, movies, dances, markets and many more. If you come as a family or with dogs, they have a children's area and activities to walk with them and discover the Art Deco District of Miami.
Rest at the Park Royal Miami Beach Hotel
Hotel Park Royal Miami Beach
is in a privileged area of North Beach Miami, where you can
rest quietly and comfortably
, away from the noise and hustle and bustle of the city. Its services and facilities are created for you to live an unforgettable experience: rooms with kitchen (fully equipped), Wi-Fi, air conditioning, outdoor pool and sun terrace.
Discover all the
things you can do in North Miami Beach
and enjoy
the best beaches in Miami
, when you need to rest and relax, come to your room at the Park Royal Miami Beach hotel.