A different wedding wear sandals to celebrate your wedding
Weddings
20/06/2023
How would you feel if your partner proposes to celebrate your wedding on the beach in sandals? Have an original wedding on the beach in a relaxed and comfortable way? Sandals are perfect for that. They allow you to walk on the beach without worrying about sand or rocks getting into your shoes!
Celebrating an original wedding on the beach can be a dream come true for some couples. Imagine the view of the sea, the sound of the waves and the salty air can create a magical and very romantic atmosphere. Do you think it might be difficult to organize a wedding wearing sandals on the beach? Our
Park Love team will organize your wedding
from start to finish. Therefore, do not worry about anything, your wedding will be a special and unforgettable event for you and your guests!
Wearing sandals to your wedding can also symbolize a
philosophy of life
: valuing comfort and simplicity. You don't need fancy, formal and uncomfortable shoes to feel special. Instead, you can enjoy the freedom and coolness of wearing sandals. In addition, your guests will feel equally comfortable and relaxed, which will allow you to
enjoy your wedding to the fullest
.
What are the best sandals for a wedding?
If you are thinking of getting married on the beach and having an original wedding, it is important to choose
the suitable sandals for the occasion
. We propose some kinds of sandals to look amazing and feel free and comfortable on your big day.
•
Wedge sandals
: If you want a bit of height without sacrificing comfort, wedge sandals may be the best option. They will give you good foot support and allow you to walk on the sand with ease. In addition, there are various types of wedge sandals, from rustic and bohemian to elegant and sophisticated.
•
Flat sandals
: Flat sandals are ideal if you want to keep things simple and elegant. They're comfortable and easy to walk on, and you can find them in a wide variety of materials and designs: simple straps to elaborate embellishments.
•
Gladiator sandals
: these types of sandals are a daring and striking option, with straps that go up to the ankle, they are perfect for creating a bit of drama in your wedding outfit. In addition, gladiator sandals are comfortable and provide good foot support.
•
Platform sandals
: platform sandals are a modern and elegant option for original beach weddings. With their raised sole, they'll give you extra height, without sacrificing comfort. In addition, they can be found in a variety of styles and designs, from simple and classic to more daring and modern.
In general, there are many sandal options available to celebrate your beach wedding, from elegant and sophisticated to comfortable and casual. Make sure you choose a style that suits your personality and makes you feel comfortable on your big day. Don't forget to put sunscreen on your feet!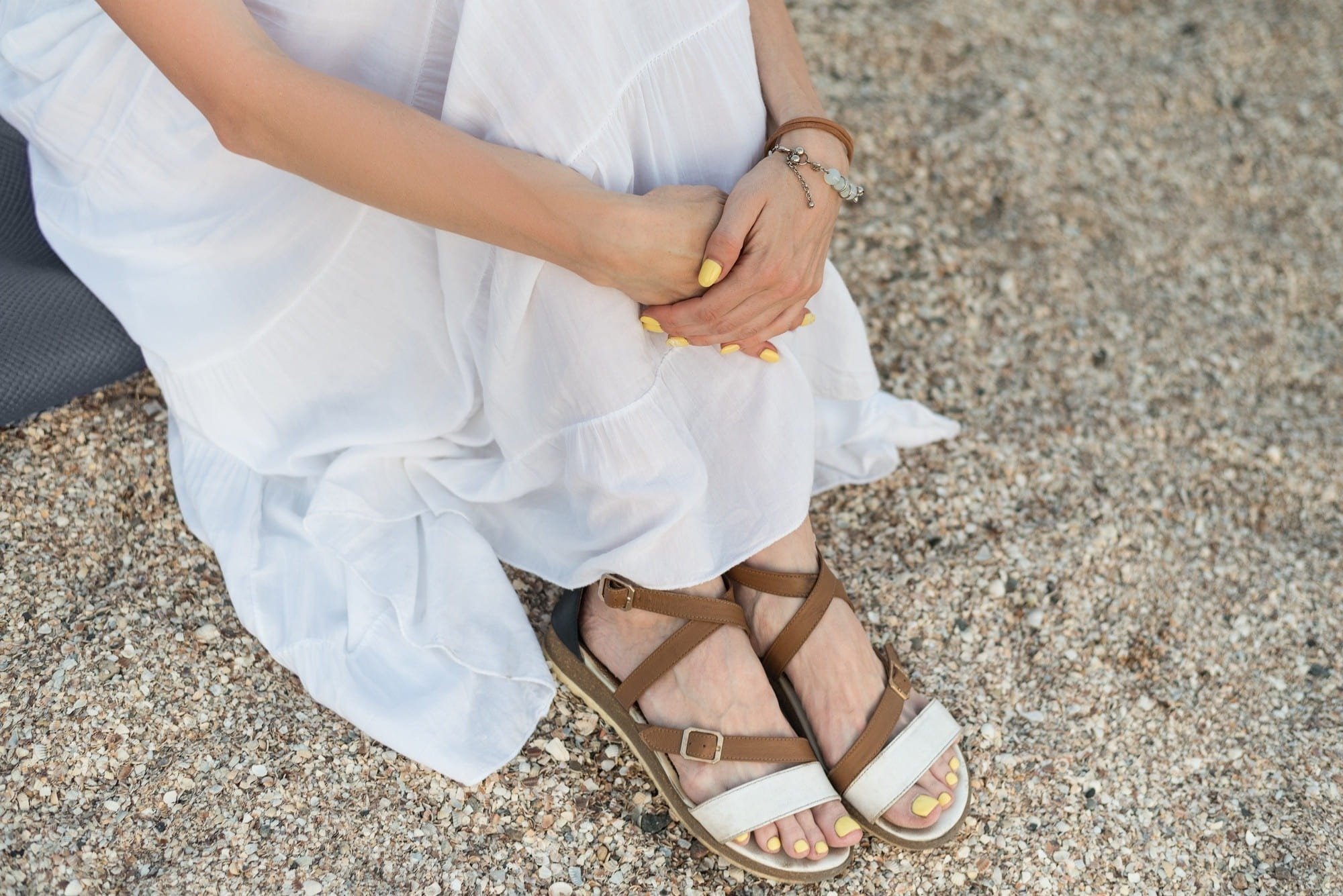 Get married at the beach with Grand Park Royal Luxury Resorts
Getting married on the beach is one of the most common dreams for many couples, and what better place to do it than on the
beautiful beaches of Cancun, Puerto Vallarta and Cozumel
. Grand Park Royal Luxury Resorts in these areas offer everything you need to make the wedding of your dreams come true.
Cancun is one of the most popular tourist destinations in Mexico, thanks to its white sand beaches and crystal clear waters.
Grand Park Royal Cancún
is an ideal place to get married on the beach, with stunning ocean views and a wide variety of wedding packages to meet the needs of any couple.
Park Love will make your special day unforgettable!
Puerto Vallarta is another popular destination in Mexico, known for its beautiful beaches and rich culture.
Grand Park Royal Puerto Vallarta
offers you a beautiful beachfront location to celebrate your original beach wedding, with all-inclusive packages and live music. Plus, our team of professionals will help you through every step of the planning to make sure everything is perfect.
Finally, Cozumel is famous for its coral reefs and stunning beaches.
Grand Park Royal Cozumel
offers a variety of wedding packages that include a ceremony on the beach or in a ballroom. The
Park Love
team will be there to make sure every detail is perfect in your original beach wedding.
The Grand Park Royal hotels and resorts in
Cancun
,
Puerto Vallarta
and
Cozumel
are ideal places to get married on the beach. They offer a wide variety of services that will adapt to your needs, as well as benefits for the couple and guests.