Be surprised and discover what to do in Mazatlán
Destinations
30/12/2020
Mazatlan is one of Mexico's most emblematic sun and beach destinations, with a 13-mile-long boardwalk, one of the largest in Latin America. In this paradise, you will be able to surf, bird watch, dive, and sport fish.
Mazatlan has two areas, Old Mazatlan and the Golden Zone. This unique city has the most extensive port facilities from Los Angeles to the Panama Canal. Watch majestic cruise ships as they arrive in the port.
How to enjoy Mazatlan
This city is much more than a beach destination. You will be able to delight in nature and culture.
Majestic whales, dolphins, and turtles
Witness some of nature's most remarkable beings. From December to March, the annual migration of humpback, killer, and gray whales occurs; these species migrate from Alaska to give birth to their calves and spend the winter in the warm Mexican Pacific.
Throughout the year, gorgeous dolphins swim in the Sea of Cortez. El Verde Camacho Sea Turtle Sanctuary opens from June to January in the mangroves of Mazatlan. Live the experience of releasing turtle hatchlings into the ocean.
Travel to the Stone Age
There is a unique place in Mexico where you can travel in time and learn how human beings communicated before civilization, Las Labradas. This archeological site was declared an Archeological Monument Zone on November 30, 2012. More than 600 cave engravings made between 2000 B.C. and 300 A.D. have been discovered to date.
Live the party in Mazatlan Carnival
Parades, concerts, gastronomy come together in one of the largest and important carnivals in Mexico and the third-largest in the world after the Rio de Janeiro and New Orleans carnivals.
Enjoy the Fachas dances, a naval combat spectacle with fireworks, light and sound; the parades, in which you will admire the Carnival Queens, allegorical floats, comparsas (dance groups), and much more. This carnival takes place around the end of February and the beginning of March.
Where to stay in Mazatlan
To make your visit to this unique place in the Pacific complete, stay at Park Royal Beach Mazatlan Hotel, our resort located on the marina, facing the sea's imposing beauty and near the best landmarks.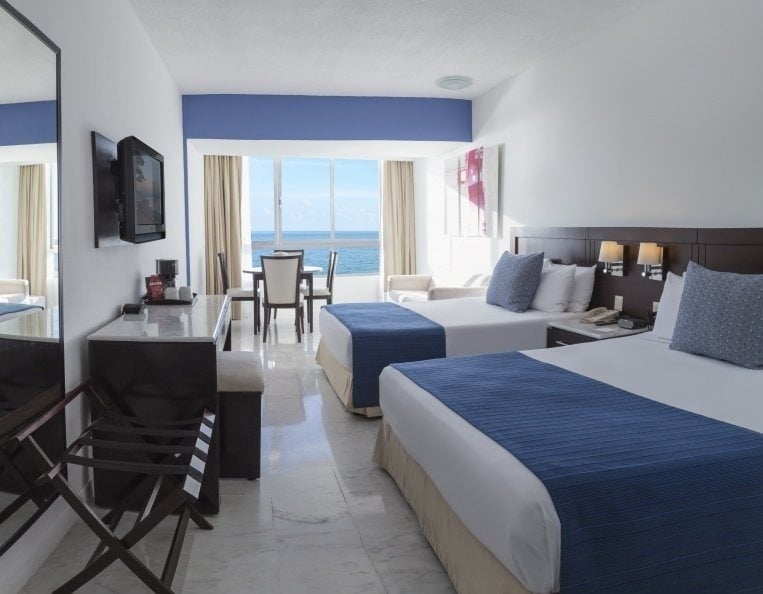 Its 131 comfortable rooms are decorated with a mix of colors and minimalist details. They have air conditioning, bath amenities, a safe-deposit box, cable T.V., and WiFi. Some have a jacuzzi, living room, balcony, and dining room. No matter which room you choose, you can always enjoy ocean views from it.
Gastronomy in Mazatlan
The restaurant at Park Royal Beach Mazatlan has international and Mexican specialties, and regional classics like:
● Stuffed peppers with shrimp salad
● Grilled seafood
● Smoked Marlin
● Shrimp ceviche and aguachile
● Chilorio
Relax at the SPA
It's time to relax and indulge yourself with an aromatherapy massage in
Mazatlan's best hotels spa.
Stop worrying, relax, and just enjoy.
European Plan
Park Royal Beach Mazatlan Hotel has a European Plan. You can discover Mazatlan's magic and then rest in the most comfortable and beautiful rooms. We are expecting you with open arms at Park Royal Hotels & Resort!