From the famous Netflix series, straight to your taste buds: "Las chicas de la tres" and the best potato omelet in Buenos Aires"
Entertainment
24/01/2023
Pato and Romi are a couple from Buenos Aires, who not just share a love story, but also have a passion for gastronomy, which has made them famous not only in their hometown, Buenos Aires but also in thousands of homes around the world.
Want to know how they made it?
Keep reading and learn one more reason why this 2023 you must visit Buenos Aires and let yourself fall in love with the stories of this country and its people.
Cheese, cheese, and more cheese!
Argentina is a country whose gastronomy, thanks to European immigration, has adopted different dishes in its daily life, therefore it is not surprising that throughout the country we visitors can find in restaurants, bars, and even cafeterias, not only juicy meat cuts but also dishes such as pizza, empanadas, pasta, lasagnas, etc.
Now, stop for a moment and think about what these dishes have in common, and you will soon come to the delicious conclusion that cheese is the DNA of all of them. Watching the mozzarella cheese stretch from side to side is an experience that no one can miss, especially not inside a potato omelet prepared in the Central Market of Buenos Aires by the Chicas de la 3, Romi, and Pato.
An eye-catching aisle
After a random meeting at a soccer game, Pato, the heiress and passionate chef of the family business met Romi, who soon after was included in the business located in the Central Market of Buenos Aires.
Romi arrived with new ideas, which at the beginning were not completely adopted by the customers, but in a short time, they managed to consolidate and popularize the business thanks to a potato, ham, and cheese omelet that became known by market traders and important chefs who came to the Central Market in search of the freshest ingredients for their preparations and, of course, along the way, they also took the time to taste the best potato omelet in Buenos Aires according to chef Narda Lepes who gave them the name "Las Chicas" and Pato and Romi, complemented with "de la 3", due to its location, which is precisely inside the Central Market in pavilion 3.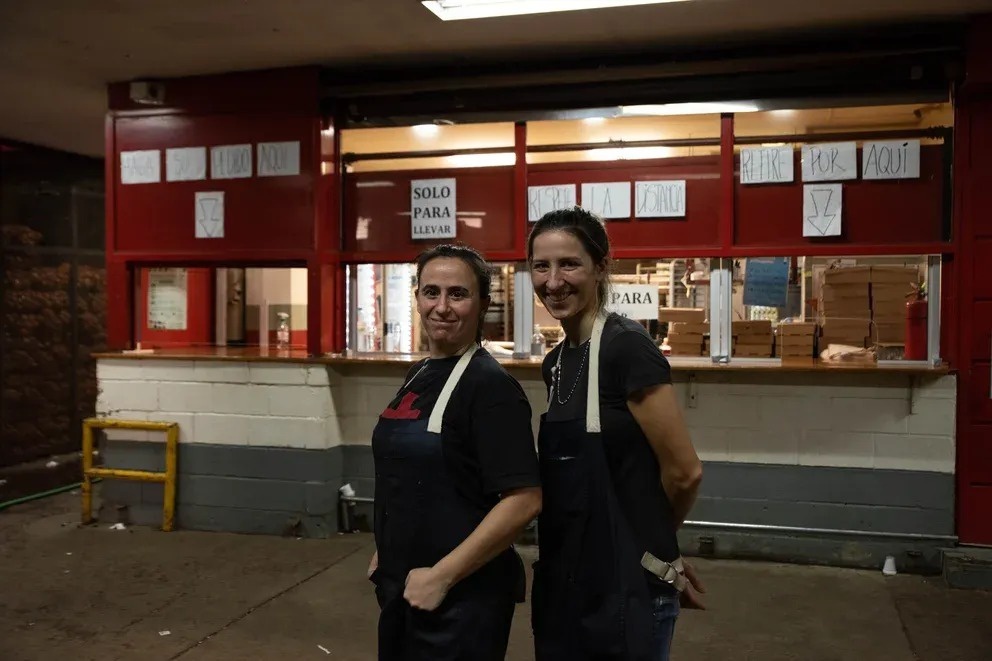 A worldwide success
Street Food, a popular Netflix series where chapter by chapter you will know heartwarming stories around the world about food, has chosen for its Latin American edition the story of Pato and Romi, who thanks to its popular dish earned a place in this production, which made hundreds, and perhaps thousands of people around the world, take this place as a popular one to visit on their trips to Buenos Aires.
One of Pato's most iconic phrases during the making of the documentary is that "people eat first through the eyes, then through the mouth and finally through the heart" and we are sure that this phrase is not only true, but also a wise one, and we want to invite you not only to watch the episode on the popular streaming site but also to experience it with your own eyes and taste it with all your senses on your next trip to Argentina's capital city.
Pato y Romi's venue is located 20 km from
Park Royal City Buenos Aires
and our advice, besides renting a car, is to use public transportation to get there. Please contact our concierge service, who will help you with any request you may have during your stay.
Bon appétit!