Looking for hotels in Acapulco? Stay at Park Royal Beach Acapulco
Destinations
25/11/2020
Acapulco is only a four-hour drive from Mexico City. This beautiful bay in Guerrero State is easy to reach for international and Mexican tourists. Acapulco is a vibrant port, with sumptuous hotels, outstanding gastronomy, and warm waters.
If you need some sun and sea days, choose a good hotel like Park Royal Beach Acapulco, we are expecting you and will be happy to recommend the best attractions and places to visit.
Our
All-Inclusive hotel in Acapulco
A has several culinary and fun options, all in one place. The youngest will enjoy a kiddie pool with a waterpark and a Kids' Club. And the grown-ups can play and enjoy bars, or taste Italian, Seafood, and International cuisine in our three restaurants, or lounge by the pool and beach.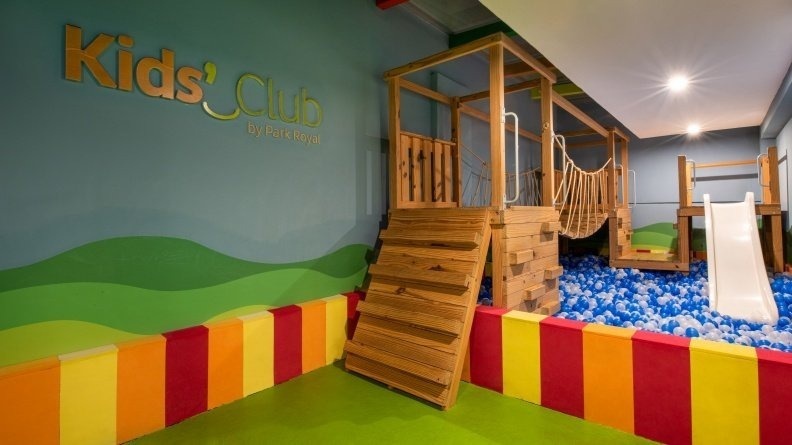 The hotel has an alfresco bar facing the ocean, with spectacular views of the world-famous Acapulco Bay and access to our private beach. Keep reading to discover everything you need to know to live the best vacation of your life!
What to do in Acapulco
Adrenaline Rush
Acapulco, in Mexico's Guerrero State, has 3 large tourist areas. Acapulco Tradicional, Acapulco Dorado, and Acapulco Diamante. Each one has a different feeling and many fun and exciting attractions:
- Bungee: Jump from a height of 164 feet overlooking the ocean. There are no words to describe the incredible feeling of adventure after this feat. It is only 3 miles from Park Royal Beach Acapulco hotel.
- Rappel: Spend the morning submerged in Nature. Papagayo River is perfect for an adventure in hiking, rock climbing, rappel, and kayak.
- Skydiving: Dive into the air in this fantastic adventure with Skydive Acapulco, a 15-minute drive from Park Royal Beach Acapulco hotel.
- Jetski: Many Acapulco beaches rent jetski and equipment for other motorized watersports.
El Secreto Beach
Discover a hidden treasure in Acapulco. Playa El Secreto has calm waters with low tide, perfect for children. This beach is a beautiful setting for Park Royal Beach Acapulco hotel.
Caleta and Caletilla
To truly see authentic Acapulco, a visit to Caleta and Caletilla beaches is a must. Take the glass-bottom boat to Roqueta Island to watch the Virgin of Guadalupe's submerged image, 22 feet below the surface. This beach is perfect for snorkeling and swimming among multicolored fish and sea urchins.
Gastronomy
Barra Vieja is just a fun 35-minute drive from Park Royal Beach Acapulco hotel, past the airport, on the road bordering the sea. It is famous for beach restaurants that prepare the traditional Pescado a la Talla, a deliciously seasoned catch of the day. The restaurants also serve fresh garlic shrimp, clam and scallops cocktails, crab, and the famous Vuelve a la Vida, a local seafood cocktail. The Pescado a la Talla is Acapulco's signature dish, seasoned with herbs, chilis, and spices that make a unique and delicious recipe.
Sea Turtle Liberation
Share with your group the wonderful experience of freeing sea turtles into the ocean at Coyuca Lagoon. Help preserve life's delicate balance and have a moment of reflection and connection. Don't miss it!
La Quebrada
La Quebrada has been one of Acapulco's main attractions for over 50 years. Expert divers make their way on the rocks and jump 120 feet into the sea, as the public watches from a looking point ideal also for enjoying the sunset.
When to Visit Acapulco
Acapulco is famous for having 360 sunny days a year. The best time is from November to May when the average highs around 85°F and lows around 74°F. During the summer, highs reach 90°F.
Park Royal Beach Acapulco
is one of the
best hotels in Acapulco,
with a private and exclusive beach, all-inclusive plan, and comfortable and luxurious accommodations. We can't wait to have you here!