What to see and do in Los Cabos
Destinations
12/09/2023
From Park Royal Homestay Los Cabos, we want to provide you with a guide to standout places in Los Cabos so you don't miss out on anything. 20 places that will make your trip something special and unforgettable
Beaches of Los Cabos
The Arch of Los Cabos
The
Los Cabos Arch
is a rocky composition that acts as a gateway to the sea that captures the natural beauty of the region. Also known as the
"end of the earth"
it is the central focus of tourism in Los Cabos. Every 4 years it is possible to walk under the Arch and take a photograph that makes this trip unforgettable. Beneath the Arch are Love Beach and Divorce Beach, known for their beauty and rough waves respectively.
Love Beach
The
beach of love
, or also called
lovers' beach
, is known for its relaxed tide, its crystal-clear water and its intimacy, perfect for visiting Los Cabos as a couple. Located 100 meters from the Arch. To access this island it is necessary to hire a panga, a maritime taxi that will show you the wonderful scenery of this region.
Divorce Beach
Unlike the beach of love, the
beach of divorce
is known for being one of
the most dangerous beaches in all Mexico
, this is due to the direct access to the Pacific Ocean. Bathing or any type of aquatic activity is prohibited, but it is a perfect place to contemplate the force of nature.
Widows Beach
One of the unmissable beaches on your visit to Los Cabos is
"Viudas Beach"
, its sunset stands out where the
reefs are illuminated by the sun's rays
, accompanied by tranquility and the beauty of the place. You can swim and dive, however, it is a beach with intense waves and you must be careful.
Medano Beach
Located in the heart of Los Cabos de San Lucas,
Medano Beach
is a beach with contagious energy. This beach is surrounded by restaurants, bars and vendors of artisan products, which makes this destination an ideal place to spend the whole day, enjoying the beach and having a great time.
Santa María Beach
Enjoy a wonderful day of relaxation and tranquility on
Santa María beach
, known for being one of
the safest beaches off all of Mexico
. Shaped like a horseshoe, it is considered by many to be
the most beautiful beach in Los Cabos
.
Palmilla Beach
Palmilla Beach
is part of the tourist corridor of beaches in Cabo San Lucas. This beach is considered one of the most popular in the region, known for its marine life, its activities include surfing, snorkeling, fishing and diving.
If you are lucky, you will be able to see whales in season from November to February. Check our blog:
Whale watching in Los Cabos
.
Balandra Beach
If you travel with your family to Los Cabos,
Balandra Beach
is your option, a beach with very gentle waves and shallow depth (1.20 meters high at most), known by native citizens as
"the natural lagoon".
It is a protected area, you must bring your own food and water, since restaurants and bars are not nearby. Don't forget to bring a trash bag and don't leave anything on the beach
Activities in the Capes
Fox Canyon
A
hiking route
for the most active on vacation. It is a route of moderate difficulty (3.4km) surrounded by a beautiful oasis, waterfalls and lagoons. If you are one of those looking for a little sport on your vacation, don't miss this activity.
Walk around Cabo San Lucas
Cabo de San Lucas
is the area where most of the hotels, restaurants, bars, entertainment are concentrated... As well as the fishing port, a popular area to eat a seafood platter, or go out to party.
Get to know its squares, its town hall and the art district. We recommend the sailboat ride to see the sunset, this plan is perfect if you are looking for a
romantic plan in Los Cabos
.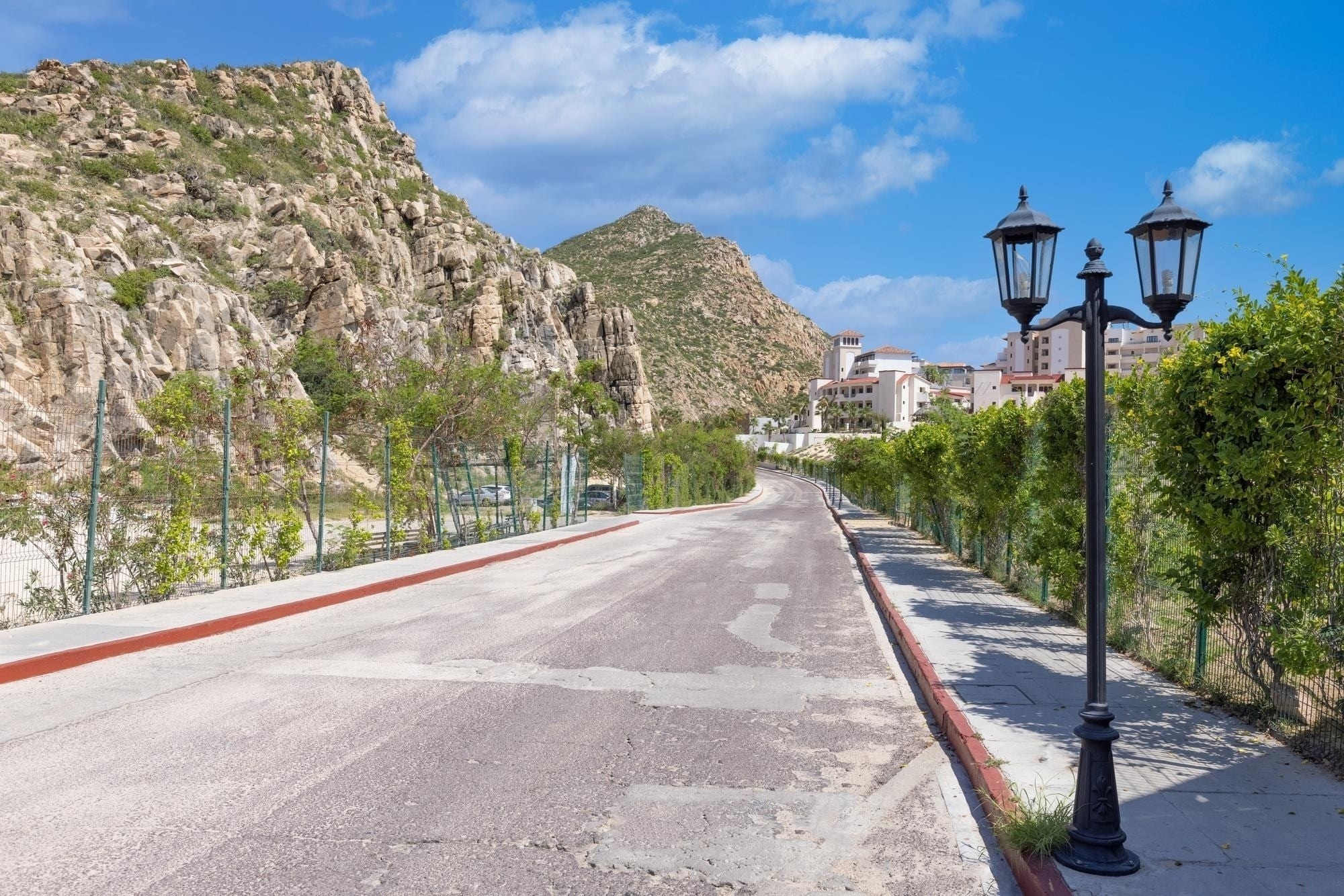 Get lost in the historic center of San José
Getting lost in the alleys of the historic center of San José and visiting its art galleries is an essential plan on your trip to Los Cabos.
Some of the most famous art galleries in Los Cabos are: Ivan Guaderrama Art Gallery, Frank Arnold Gallery, Galería de Ida Victoria, Golden Cactus Gallery, Enrique Bascón, Galería de Arte, Tequila AV Experience Art Gallery, Old Town Gallery, Ivan Guaderrama Gift Shop, Movimiento Art Gallery, Galería Paquimé and la Turquesa Jewelry and Art.
The Mission of San José del Cabo Añuití
It was the southernmost Jesuit mission during the colonial period. The mission of
San José del Cabo Añuití
is located in the town of Cabo and is part of the history of Mexico.
The
southernmost mission of the peninsula
was established in Añuití, current San José del Cabo. Dedicated to San José, financed by Marqués de Villapuente, built by Nicolás Tamaral and José de Echeverría. Destroyed by the Pericúes Rebellion in 1734. Current church near the original site, it features a mosaic narrating the murder of Father Tamaral. Abandoned in 1840.
Cabo Pulmo National Park
Virgin and remote eco-destination for those seeking a unique adventure.
Cabo Pulmo
is an example of eco-tourism, ideal for those looking to dive with the largest coral reefs in the world and with endangered turtles, as well as bull sharks, black tips and humpback whales.
The day in Todos Santos
The
Day of the Dead or All Saints Day in Mexico
was declared in 2008 as Intangible Heritage of Humanity by Unesco. It is a day deeply rooted in Mexican society and, although it is celebrated differently in each region, it is the moment in which we live with the dead.
The
best way to experience the Day of the Dead in Los Cabos
is to visit the Altars, and offerings that are installed in homes, plazas, and cemeteries. Adorned with flowers, candles, photographs and personal belongings of the deceased, these exhibits create a respectful and poignant atmosphere. It is also common to see during the celebrations, sugar skulls, "papel picado" and "pan de muerto".
In addition to this, during the Day of the Dead
parades and processions
are held in the city where the marchers dress in traditional attire and skull makeup, to the rhythm of music and folk dance.
Santiago
It is a small community located on the edge of the municipality of Los Cabos, founded in 1721 under the name of the
Mission of Santiago el Apóstol
. Its botanical gardens and its natural hot springs (El Chorro and Santa Rita) stand out.
Santa Rita Hot Spring
This
incredible trail
ends in some pools of clean water surrounded by a beautiful oasis of nature that will leave you speechless.
The Hot Spring Jet
One of the
outstanding springs of Baja California is El Chorro
, in the northern part of the municipality of Los Cabos these thermal water pools are located.
La Ribera
La
Ribera is a fishing town in Baja California
with barely 2,000 inhabitants, well known for fishing tourism, its famous fishing tournament and the abundance of species such as Marlin, Sailfish, Wahoo, Roosterfish, among others.
Miraflores and its Pitahaya festival
A
small traditional town
just minutes from Los Cabos, the inhabitants of Miraflores invite visitors to their shops selling leather goods, ceramics and handmade furniture; items that are true treasures.
Visit the Los Cabos Desert
Not all travelers to Los Cabos are looking for tropical beaches,
the Los Cabos desert or Baja California desert is the new Mexican paradise
that will allow you to discover wild beauty and an incredible experience. One of the
best Cabo San Lucas desert excursions
is to hop on a Safari Jeep and chase dirt roads and trails.
Golf Courses in Los Cabos
If what you are looking for are
golf courses in Los Cabos
at
Park Royal Homestay Los Cabos
we are surrounded by them and we have discounts for you. Do not hesitate to consult during your stay with us.
HOTEL IN LOS CABOS, BAJA CALIFORNIA
We have already told you all the possibilities of what
you can do in Los Cabos, Baja California
. If you have fallen in love with this region and want to visit us, you can do so at
Park Royal Homestay Los Cabos
. Spacious suites, tropical gardens, outdoor pools, surrounded by golf courses and the ideal opportunity to explore the beaches of Los Cabos. Book your vacation with
Park Royal
.