Huatulco vacations: The perfect destination for couples and families with kids
Destinations
03/02/2021
In the state of Oaxaca, Huatulco is a group of bays that you can visit any time of the year, with sunny days and temperatures ranging from 65 °F to 88 °F in any season.
Huatulco has natural and cultural attractions perfect for resting and being in contact with nature. If you are looking for hotels in Huatulco, Park Royal Beach Huatulco is an excellent choice for a family trip. Stay with us and discover this superb destination!
What to do in Huatulco?
Coral Field
Discover La Entrega Beach, a paradise on Earth just a 17-minute drive from the hotel, with soft sand and a deep blue sea. You will discover the most beautiful feature when you enter the water, a pristine coral field with vivid and beautiful colors. The area offers different snorkel rental and tours. Enjoy this natural spectacle and then relax on the beach's soft sand while sipping a hydrating coconut.
Extreme tourism
If you like extreme sports, you must experience the adrenaline of a Copalita River whitewater rafting adventure (3.5 miles from Park Royal Beach Huatulco). The tour takes 4 hours. You will first receive protective equipment and a class to perform the activity with safety. This sport requires teamwork, so if you take on an adventure as a group, your fun will be guaranteed.
Party in Huatulco
If you want to have fun and spend hours dancing to great music, you will love a catamaran ride. Our suggestion is to tour the seven principal Huatulco bays: Santa Cruz, Chahue, Organo, Cacaluta, Chachacual, and San Agustin. During the tour, you will see the main natural attractions such as the formation known as "Stone Face" and local flora and fauna. The trip lasts approximately 5 hours.
Where to stay in Huatulco?
Enjoy wonderful vacations in Park Royal Beach Huatulco, your best option if you are looking for family hotels in Huatulco. It is in a tropical jungle on a hill. You will be able to contemplate the best view of the Mexican Pacific, a perfect place to spend a holiday as a couple or with your family.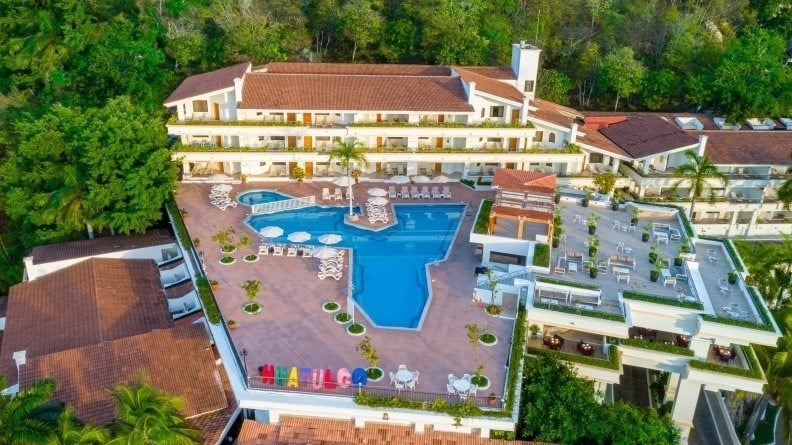 An all-inclusive hotel in Huatulco Bays

Park Royal Beach Huatulco Hotel has the best view of Tangolunda Bay. It is only 13 miles from the airport, next to the only golf course in the area. It has 133 spacious rooms with nature or sea views. Its All-Inclusive plan offers a great selection of regional and international dishes and a variety of beverages, all made with quality and hygienic standards that will give you peace of mind and allow you to live your stay in Huatulco to the fullest.
Our hotel in Huatulco has two swimming pools, three splash pools, and a children's area. If you are looking for a place to relax, the resort also has a spa, fitness center, and tennis court.
We are expecting you in one of the best
all-inclusive hotels in Huatulco Bays
, close to the best tourist attractions. Our priority is your satisfaction and that of your family, so you can feel at home enjoying one of Mexico's beach paradises.