Luxury and exclusivity in the Mexican Caribbean and Pacific
Hotels & Resorts
10/11/2022
Learn more about Grand Park Royal Luxury Resorts
When talking about the Mexican Caribbean, you surely know the combination that everyone describes in this magical place; white sand, turquoise beaches, calm waters, and relaxation. However, for us at Park Royal Hotels and Resorts, the Caribbean represents so much more, since here you will find three of our main hotels belonging to our Grand Park Luxury Resorts brand, which as its name suggests, were designed to satisfy guests who are not only looking for an ocean view accommodation but also want to find a place where they can satisfy all their cravings, needs, and desires. Immerse yourself and get to know it!
Grand Park Royal Cancún
Perhaps one of the most iconic destinations in the Mexican Caribbean is undoubtedly Cancun, which besides being a delight to the human eye, also has everything necessary for those seeking luxury vacation experiences and comfort in this iconic resort.
Located in the Hotel Zone, Grand Park Royal Cancun has 2 swimming pools, outdoor jacuzzis, Balinese beds, a spa, a gym, 24-hour room service, 2 snack bars, a cafeteria, and an ice cream shop. It also has 4 bars, one of them with a view of the Nichupte lagoon, 1 buffet restaurant, and 4 á la carte specialty restaurants, perfect to delight everyone's taste buds.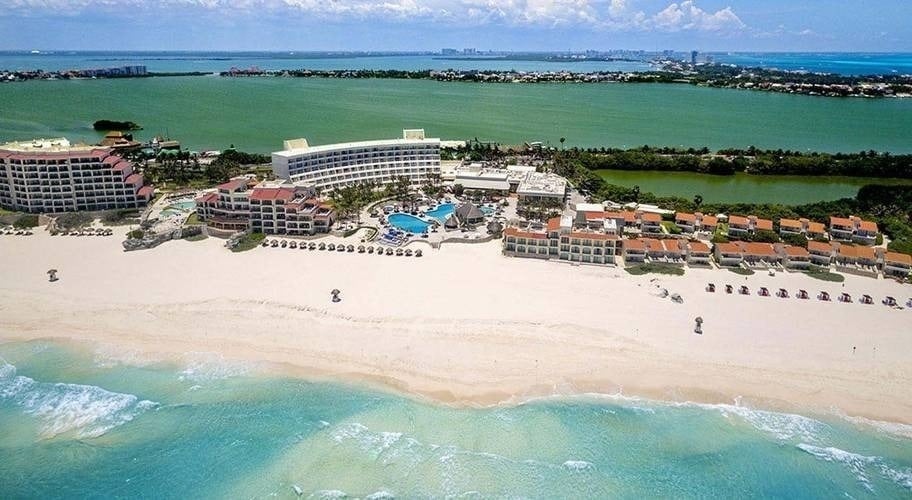 In addition, this resort is located near the best nightclubs, attractions, and shopping centers so you always have a different option to enjoy. Get to know this resort in the virtual tour available:
Grand Park Royal Cozumel
Internationally awarded for its decorations that simulate Mayan themes, this resort welcomes you to the largest Mexican Caribbean Island. It has 3 pools; two family pools and one exclusively for adults, plus 2 oceanfront jacuzzis, a spa, a gym, Balinese beds, an outdoor theater, 24-hour room service, a Kids' Club, a cafeteria and ice cream parlor, 5 bars and 2 snack bars for those cravings between meals. In addition, the gastronomic offer will be covered in its 3 á la carte specialty restaurants; Mexican, Italian, and seafood, as well as a buffet with themed nights.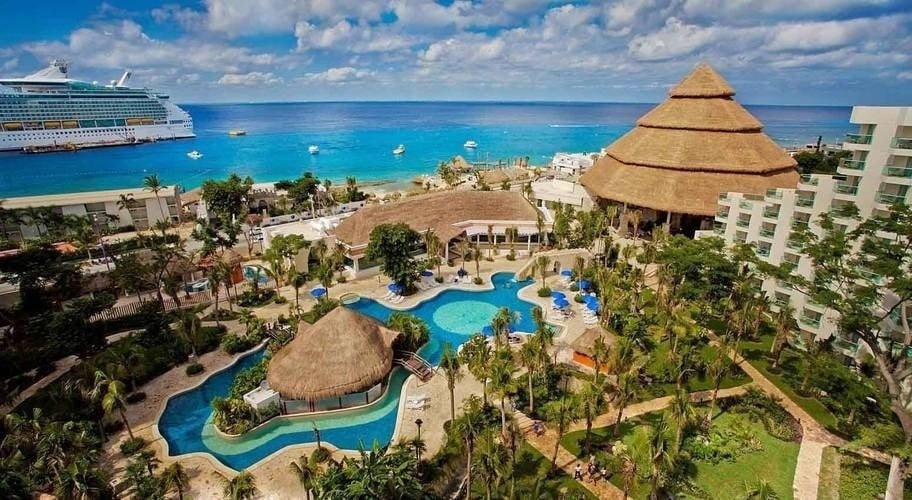 As if that were not enough, the beach of this resort will allow you to snorkel and contemplate some marine species that inhabit the depths of the ocean. Are you ready to start the adventure?. Get to know this resort in the virtual tour available:
Grand Park Royal Puerto Vallarta
Welcome to a sophisticated environment surrounded by mountains. In this resort, all rooms have a balcony facing the sea to contemplate a wonderful view of Banderas Bay. In addition, you can enjoy the best of national and international cuisine in its buffet restaurant, three specialty restaurants, 24-hour room service, spa, gym, cafeteria, snacks, and 5 bars, one of them a sky bar with an incredible view to contemplate the best sunsets. In addition, two swimming pools with an ocean view and another one in our sky bar.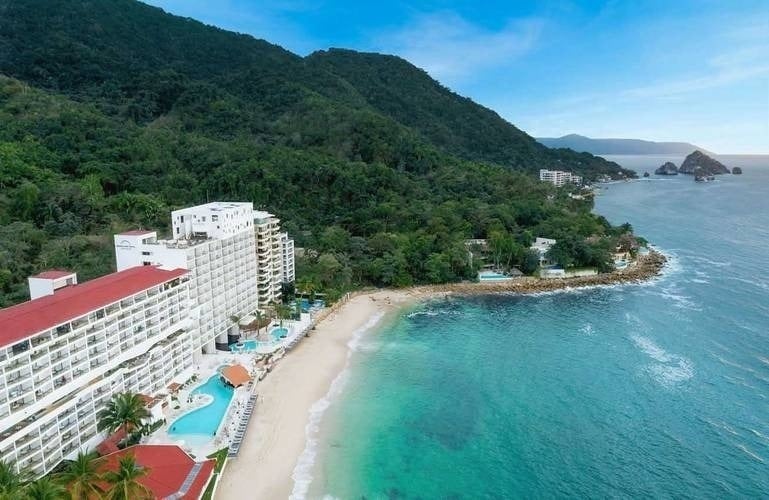 This resort is located 20 minutes from the hotel zone, which makes it an exceptional place to rest and enjoy a stay where relaxation and the most beautiful views of the Mexican Pacific are a daily experience. Get to know this resort in the virtual tour available:
Regardless of the resort you choose from our Grand brand, you will be able to enjoy an attractive entertainment program with daytime and nighttime activities organized by our Funtastic Team, which has prepared everything to welcome you and complement your stay.
Now that you know more about our Grand Park Royal Luxury Resorts brand, choose the hotel of your preference and get ready for a pleasant
#GrandExperience
.