Why travel to Humacao in Puerto Rico?
Destinations
08/04/2021
Humacao
is a small city in Puerto Rico's east, only 45 minutes from the San Juan airport. A famous tourist destination, it welcomes thousands of visitors throughout the year. Leisure, gastronomy, culture, activities, and a dreamlike tropical landscape make it a perfect place for an unforgettable vacation. From
Club Cala de Palmas Humacao Puerto Rico
we share with you some of the
reasons to travel to Humacao.

Humacao: An incomparable tropical paradise
Puerto Rico
is the most visited destination in the Caribbean and the smallest of the Greater Antilles. The capital, San Juan, has everything you need for a memorable experience and is ideal for enjoying rhythm and fun with an exceptional climate. Humacao is just 35 miles east, a small town surrounded by nature that will surprise you.
One of the main
reasons to travel to Humacao
is its tropical shores, with paradisiacal beaches such as Playa Salvaje or Punta Candelero. For nature lovers,
Humacao
is surrounded by pristine environments such as the Humacao Nature Reserve or Lake Humacao, which are valued for their local fauna and the many activities available, like recreational fishing, kayaking, or hiking trails.
Also known as La Perla de Oriente or the Eastern Pearl,
Humacao stands out for its excellent tourist activity
, including the Palmas del Mar complex, with many recreational, sports, and restaurant facilities.
In terms of gastronomy, the most typical is Caribbean food, consisting of rice, chicken, or beef, combined with sweet flavors from local products, like yucca, chayote, or corn.
Park Royal Homestay Club Cala Puerto Rico in Palmas del Mar
Now that you have learned about this beautiful destination, we invite you to discover one of the best
Club in Cala de Palmas
, in the east of Humacao: Park Royal Homestay Club Cala Puerto Rico, a complex of villas with an excellent reputation, where we offer all the facilities you need such as golf courses, tennis club, a fishing village, restaurants and proximity to the beach.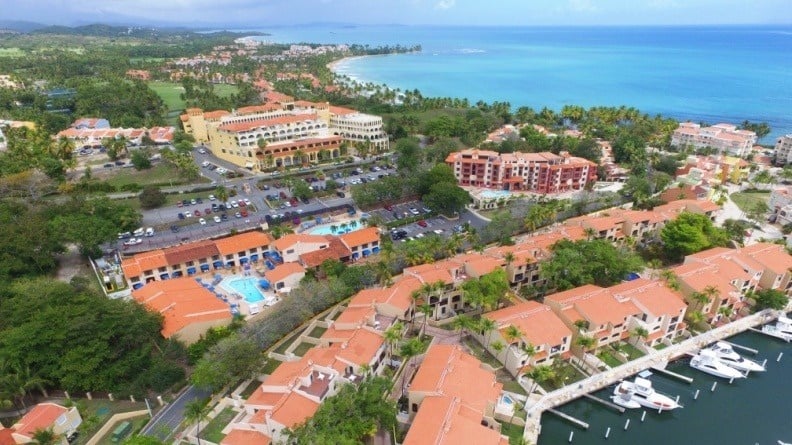 The villas are equipped with kitchen, living room, and fully furnished terrace, designed to provide the rest and quiet you deserve while enjoying the paradisiacal atmosphere in one of the Caribbean's most visited islands.
Our
Club Cala de Palmas Humacao Puerto Rico
is just a few yards from El Yunque National Forest, Luquillo Beach, and the Fajardo Bioluminescent Bay, and the Old San Juan historical attractions, not to mention one of the most popular activities on the island: zip lining.
So now you know, all this and much more is expecting you at Park Royal Homestay Club Cala Puerto Rico. Let yourself be seduced by the charms of Humacao and live an unforgettable vacation with us.