Cancun must-sees
Destinations
05/05/2021
Cancun is one of the most popular beach destinations in the world. It is a paradise full of charm with many hidden treasures to discover. Its Caribbean beaches and the intense local culture make Cancun the perfect destination to travel with family, significant others, or friends. Ancient ruins, delicious local cuisine, and Caribbean music will be ingredients for a perfect vacation.
Park Royal Hotels & Resorts
has the best Cancun activities for a perfect visit while enjoying your stay at any of our hotels. We invite you to live a memorable experience at Park Royal Beach Cancun, our modern
 all-inclusive resort
or have a
luxurious and relaxing vacation
at
Grand Park Royal Cancun
.
What to do in Cancun?

Isla Mujeres Tour
Just one hour from Cancun, Isla Mujeres is a paradise with expansive white sandy beaches, crystal clear waters, and sea beds full of life. To get to Isla Mujeres we recommend a catamaran excursion. During the trip, you can practice snorkeling in one of the most beautiful Caribbean reefs. It is convenient to rent a bicycle or a golf cart on the island to visit emblematic places such as Playa Norte.
Tulum Archeological Site
Tulum is 90 miles south of Cancun. It is a must-see during your vacation. The Tulum Ruins are a Mayan archaeological site that has important preserved structures. Reserve a couple of hours to visit the site and finish the experience by dipping in one of the most amazing beaches of the Riviera Maya. A place tailored for history lovers!
Discover Amazing Cenotes
A cenote is a deep blue water hole formed when the roof of an underground cavern collapses, creating a natural pool filled with rain and flowing water from underground rivers. Mayan Riviera cenotes are the most popular in the area. Book a tour to visit these natural marvels, and don't miss the experience of diving in one of these ancient caverns. Don't forget to immortalize the moment with your photographic skills.
Underwater Art Museum
A fantastic museum under the water,
MUSA
, holds more than 500 sculptures and installations. It is the perfect excursion if you are a diving lover and usually costs about 100 dollars. You can visit the museum on a glass-bottom boat for half of the price. You will be amazed by the beautiful corals growing around the sculptures.
Mercado 28
The locals always recommend taking a couple of hours to visit Mercado 28 in downtown Cancun. This Mexican-style market next to Plaza Bonita is full of local goods, beautiful crafts, and souvenirs.
Chichen Itza Site
Chichen Itza is an essential getaway to learn more about the Yucatan Peninsula's historical and cultural past. It is an area that covers almost 2.7 square miles. The well-preserved archeological site is home to the Kukulcan temple, one of the 7 Wonders of the Modern World. Getting to Chichen Itza is easy. Many daily tours depart from Cancun at reasonable prices.
Street food at Parque de las Palapas
To enjoy Cancun's local atmosphere, nothing better than taking a walk through Parque de las Palapas and tasting the delicious dishes of the street food stalls. One of the locals' favorite places, where visitors can discover regional traditions and culture. A delicious gastronomic experience to enjoy authentic, well-priced snacks and Mexican plates.
Park Royal Hotels and Resorts: live memorable vacation experiences
Pamper yourself at Park Royal Hotels & Resorts and relax in our comfortable rooms. If you are looking for a great sunny vacation, we have everything for you. Our resorts in Cancun have high-quality facilities for a total relaxation experience: ocean-view rooms, restaurants, bars, spas, family entertainment activities, and more.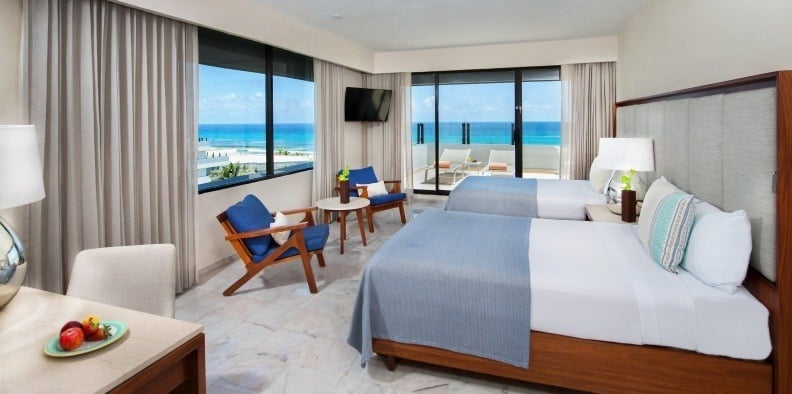 But that's not all… at Park Royal, we are committed to your family's wellbeing, health, and safety through quality standards and international hygiene protocols to guarantee memorable experiences and a world-class stay with maximum safety. We are expecting you!