Do you want to know which are the 5 best beaches in Cancun?
Destinations
01/08/2022
Cancun is a beautiful coastal city in the Mexican state of Quintana Roo. It is a very popular worldwide tourist destination, thanks to its numerous beaches and crystal clear waters. If you are planning to visit us, Park Royal Hotels & Resort will let you know which are the best beaches in Cancun, where we invite you to spend a few days of relaxation and fun while staying with us!
The most beautiful beaches in Cancun
Whether you like to relax under the sun, diving or cultural activities, these beautiful beaches of Cancun will give you unforgettable memories of your trip. Would you like to know them a little better?
Playa de las Tortugas
Playa de las Tortugas, one of the most visited beaches, is located 4 miles away from Kukulcan Boulevard, just a 10-minute drive away from the Grand Park Royal Cancun resort. It's a great place for you if you like to play volleyball, tennis, or beach soccer, as the courts are well maintained, plus there are plenty of places to grab some snacks or a bite to eat. The staff at Playa de las Tortugas is really friendly and helpful and will be happy to answer any questions you have about the beach or other activities in the area. If you are planning a trip to Cancun, Playa de la Tortuga is a must-see.
Playa Caracol
Playa Caracol is a beautiful white sand public beach located at km 8.5 of Kukulcan Blvd. 11 miles away from our hotel in Cancun. It is one of the smallest beaches in the hotel zone and is home to many activities and attractions, such as yacht, catamaran, and jet ski rides. This beach is also a popular place for sunbathing, as it tends to be much warmer and more comfortable than the surrounding beaches. Whether you are looking for relaxing beach days or exciting adventure experiences, Caracol Beach has something for you.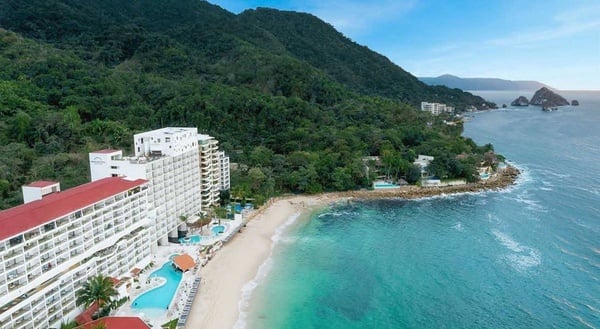 Playa Delfines
Playa Delfines has white sand, crystal waters, and a very tropical climate. It is located 6 miles away from Grand Park Royal Cancun and has almost 18 miles of extension that offer endless activities for visitors to relax and swim among the dolphins, go fishing at one of the many docks in front of the beach, or just enjoy a day of fun. It is ideal for a family break as well as something more adventurous, so come explore and enjoy all that this magical place has to offer. We promise you won't be disappointed!
Playa Langosta
Playa Langosta in Cancun is a beautiful shallow beach, perfect to go with children. It has soft sand and crystal clear waters and is located at km 5 of Kukulkan Blvd, in the middle of Cancun's hotel zone and only 3 miles away from our resort in Cancun.
Here you will find a series of facilities and activities to enjoy on the beach, from kayaking, going on a tour where you can see and swim with dolphins, strolling along the pier, and taking a ferry to Isla Mujeres. Whether you want to relax on the beach or enjoy an exciting activity, Playa Langosta has everything you need.
Playa Linda
Playa Linda is located at km 4 of Kukulkan Blvd, just 4 miles away from Grand Park Royal Cancun. It is one of the best family options in the area for its calm waters, the beauty of the Sigfrido Channel, and the coming and going of the colorful boats that come and go from the pier. This beach is one of the most beautiful on the coast, perfect for swimming and sunbathing, making it an excellent choice for those looking for a real family vacation.
Looking for a place to stay in Cancun?
As you can see, this tropical paradise is full of incredible beaches to enjoy the sun, sand, and sea. If you are looking for hotels in Cancun, Grand Park Royal Cancun is the perfect place to stay. Its mile-long beach, accompanied by two swimming pools, a Kids' Club, gym, and spa, welcome you to 346 spacious rooms and suites with guaranteed ocean view and private balconies with all the amenities.
Grand Park Royal Cancun is an exclusive All-Inclusive resort with an ideal location to enjoy Cancun's nightlife, restaurants, and shopping centers.
We hope you enjoyed this blog post and we hope to see you soon!