Enjoy the splendor of Cozumel
Destinations
16/12/2020
Cozumel is a Mexican Caribbean paradise on the coast of Quintana Roo. The airport is at 65th Avenue and Airport Boulevard, less than 5 minutes by car from downtown.
Cozumel can be easily reached by plane, as it has direct flights from all major cities in the US, Mexico, and Canada. From Playa del Carmen, you can get to Cozumel by Ferry or from Cancun by a short flight.
There are several well-located hotels in Cozumel.
Grand Park Royal Cozumel,
our fabulous resort, is a good example. This magical island will surely be a wonderful vacation experience for you.
Join us and discover how to enjoy Cozumel in all its splendor! Relax and take a tour of the enchanting island that will disconnect you from the world.
Chankanaab Ecotourism Park
Visit this park on Pedro Joaquin Coldwell Ave., between 1st Street and Juarez in Downtown Cozumel, within the Cozumel Reef National Park. There you will enjoy:
● Eco-Archaeological Tour
● Tequila Experience
● Temazcal Ceremony
● Crocodile and Manatee Exhibit
● Swim with dolphins
● Spa
● Diving
● Snorkel
● A gastronomic experience 147 feet high
The park is open from 8 in the morning to 4 in the afternoon.
Punta Sur Ecological Park
If you like direct contact with nature, visit the largest nature reserve in Cozumel. Discover the great diversity of the Mexican Caribbean's flora and fauna and enjoy an unbeatable view from the Celarain lighthouse. From the hotel, it takes about 30 minutes to get there on the Quintana Roo C-1 road.
Travel in Time
Travel back to the time of the Maya. Just 12 miles from Grand Park Royal Cozumel, discover San Gervasio archeological site, a pilgrimage destination to worship the Ixchel goddess. You can't miss it!
Journey to the Stars
Practice snorkeling in El Cielo Beach, named for the amount and variety of starfish in its white sandbank. The turquoise blue water allows you to appreciate with total clarity these spectacular mollusks.
Sunset on the Malecon
Spend a lazy summer afternoon walking along Cozumel's almost 6-mile-long boardwalk. Enjoy an extensive gastronomic offer and nightlife. You can also do some shopping in its many boutiques and stores, and enjoy the view, as you appreciate cruise ships arriving at the port.
Gastronomy
Cozumel's cuisine is a fusion of Mayan and Spanish ingredients, creating unique flavors. You cannot leave without trying the cochinita pibil (Yucatecan barbecued pork), the papadzules (corn with meat), the chocolomo (beef stew), the tamales, the pan de cazon (a shark pie typical of the region), the tikinxic (red snapper filet), lobster, a snail cocktail and lionfish.
Where to stay in Cozumel
Grand Park Royal Cozumel Hotel is only 15 minutes from the island's international airport and 5 minutes from the ferry docks' pier. The resort is one of the best hotels in Cozumel. Its architectural beauty has been awarded internationally.
Enjoy the cruise ship's arrival and the Caribbean sunsets from its luxurious rooms overlooking the sea. All rooms have a balcony, WiFi, minibar, phone, coffee maker, safe-deposit box, and cable TV for your comfort.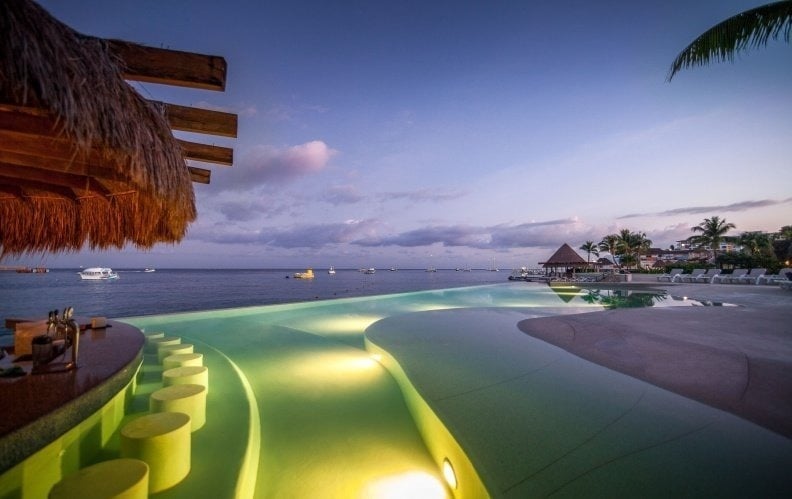 Grand Park Royal Cozumel, fun for kids and grown-ups
The resort has a fully renovated enclosed children's area and pool with water games, two infinity pools overlooking the Caribbean Sea, along with daytime and evening entertainment activities to make your stay memorable.
Gastronomy at Grand Park Royal Cozumel
Have a delicious dining experience every day of your stay, unrivaled by any other hotel in Cozumel. Choose Mexican, Italian, á la carte Seafood, fabulous desserts, and an ice cream parlor. Don't leave before getting a taste of our tequilas at Reef Bar while you enjoy the pool.
The hotel has direct access to the Royal Village shopping center, facilities, and services for groups, events, and weddings.
Enjoy the best of the Caribbean, live the complete experience at Grand Park Royal Cozumel. Paradise welcomes you in each room.