Horseback riding in Puerto Vallarta A different activity!
Entertainment
31/05/2023
Puerto Vallarta is a city that offers you a multitude of activities, both surfing and hiking trails, playing golf or diving. However, do you want to do something different? We recommend horseback riding, an
outdoor activity that will take you to dream places
.
The
horses are docile
, cared for and well trained, therefore,
if you are not a regular rider
, you can always enjoy this different and fun experience. However, if you have already ridden a horse and are an
expert
, you will be able to ride
more vigorous and energetic horses
. Horseback riding in Puerto Vallarta will take you to quiet places, with wonderful views and away from the noise of the city.
Have fun exploring beaches, jungles, rivers and even waterfalls on horseback. There are
several tours
, each one specialized in different routes, that offer horses depending on the level of the rider. Do you dare?
Do you want to ride a horse on the beach?
Horseback riding in Puerto Vallarta gives you the opportunity to discover the wonderful
beaches of the nearby state of Nayarit
, either on horseback or taking it easy. A guide will take you through the best beaches in the area, surrounded by a natural environment. These are some of the beaches that you can explore on horseback:
•
Litibú Beach
: its beauty and crystalline waters stand out, it is surrounded by a chain of mountains (La Sierra Madre).
•
Sayulita Beach
: Known by surfers for its waves, it is a tropical beach with white sand.
Live the adventure of horseback riding in a waterfall
Live the experience of riding a horse and
bathing in a river with a waterfall
in Puerto Vallarta. The most popular route is through the
paradisiacal beaches of the south
, such as the beaches of Yelapa and/or Quimixto. These beaches are accessible only through the sea, but don't worry! You can take a water taxi that will leave you at the pier of these beaches. Now is when the adventure begins! A local guide will take you through the jungle until you reach a spectacular waterfall,
where you can swim and have lunch
(don't forget the snacks).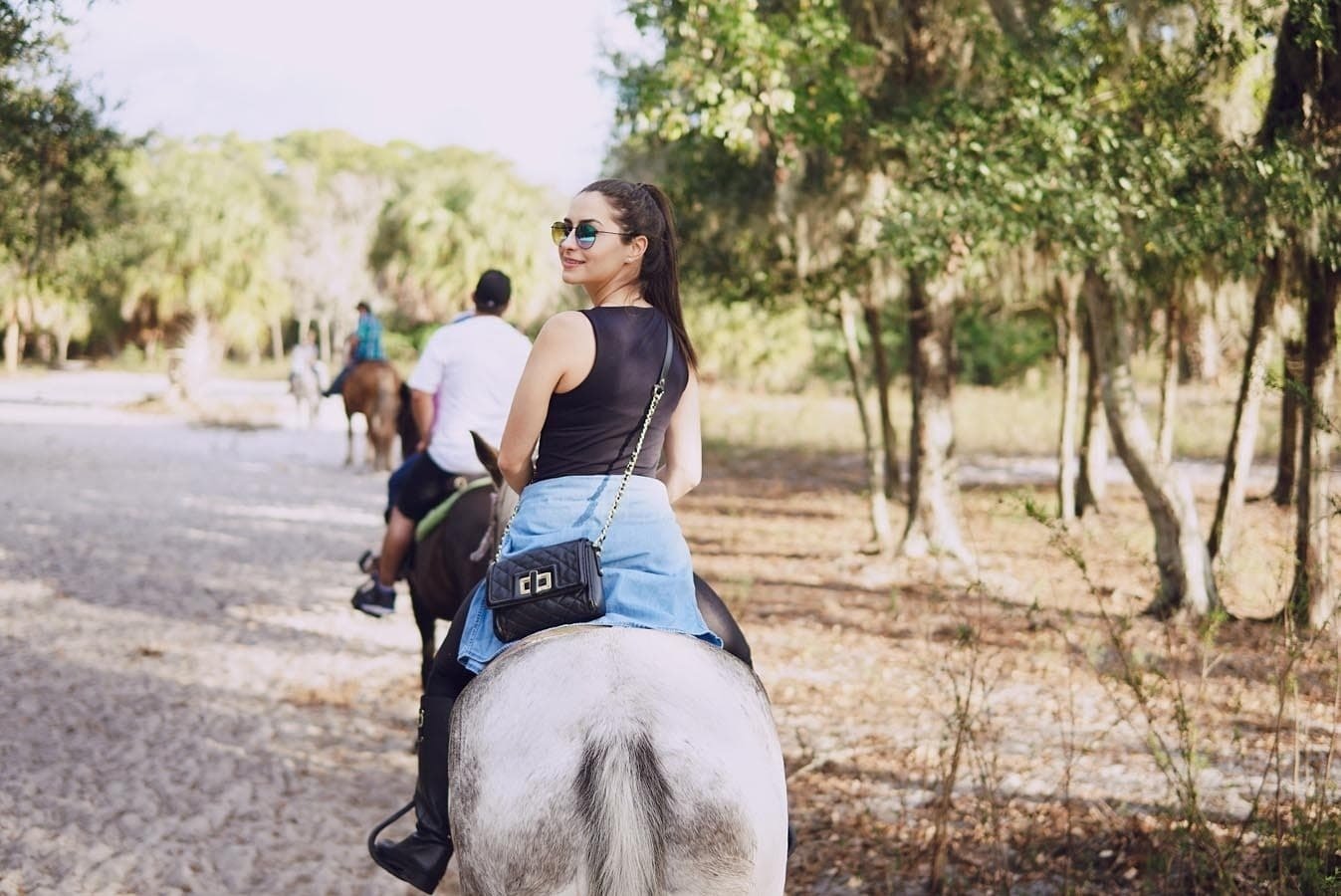 Also, horseback riding in Puerto Vallarta gives you the opportunity to explore tropical areas between mountains, for example,
the Sierra Madre route
(just 15 minutes from Puerto Vallarta) where you can ride through the Sierra Madre following a river, enjoy the beautiful views and get to know its tropical vegetation and wild fauna. If you are a fan of nature, do not miss this route!
If you want to enjoy nature and
have a family adventure
, children can also ride a horse. The routes are simple and always under the supervision of an expert guide, who will take you along the banks of a river and you will return to the ranch, where you will take Mexican food classes.
Before you come, do not miss the recommendations of
things to take into account in Puerto Vallarta
, such as the weather, the best time of the year to visit this jewel of the Mexican Pacific and much more.
Visit the Hotel Grand Park Royal Puerto Vallarta and ride a horse
Grand Park Royal Puerto Vallarta
has a privileged location in Banderas Bay, it is only
15 minutes from Quimixto beach
. Not only will you be able to enjoy horseback riding on the beach or a waterfall, you will also be able to enjoy other outdoor activities such as
surfing
or snorkeling.
If you come as a family, children cannot miss the
Kid's club
area and the
water park
. Adults with family, friends or couples can relax in one of the hammocks in the
outdoor or indoor pool
, or give yourself a massage in the spa area.
Best of all, it is the
all-inclusive
package where you can taste the tastiest dishes of national and international gastronomy and enjoy snacks, drinks and cocktails at the bar near the pool.
We can't wait to join you on your great horseback riding adventure in Puerto Vallarta!