Reasons to book your vacation in an all-inclusive hotel in Puerto Vallarta
Destinations
13/01/2021
Puerto Vallarta
is a beautiful colonial Mexican city in
Jalisco
, stretching along Banderas Bay and bathed by the Pacific Ocean. Imagine everything you can do in an
All-Inclusive Puerto Vallarta beachfront hotel
like
Grand Park Royal Puerto Vallarta
. Fancy breakfast on your private balcony overlooking the sea? A day of family games by the pool? A spa session? Whatever you wish, and much more, you have it here.
Puerto Vallarta is not only a beach destination: the pier, historic buildings, ecological treasures, traditions, its people, and, of course, its boardwalk or Malecon have a lot to offer. Want to know more, then read on.
Indulge yourself
All rooms have private balconies and ocean views. There are a central pool and a swimming pool with water games, day and night activities for all ages, and unique adventures such as whale and turtle watching during the winter and excursions to the heart of the Sierra Madre.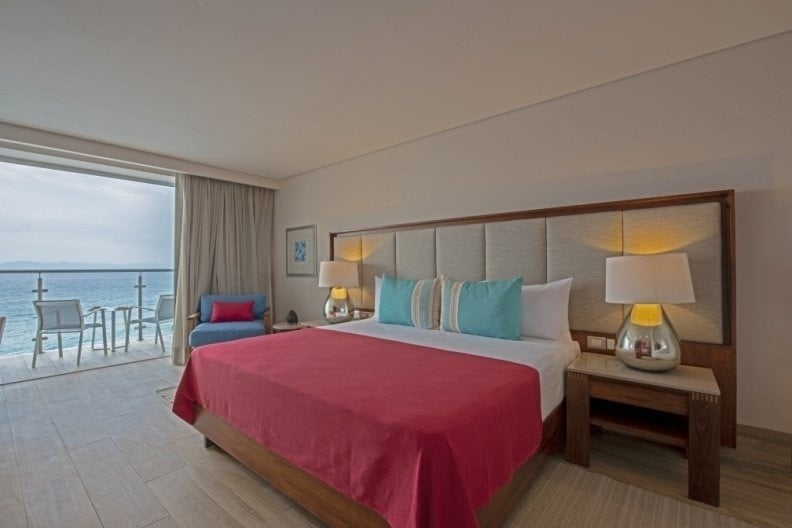 If you enjoy tasting different dishes, we will be delighted to welcome you to our international buffet restaurant or our Mexican, Italian, and seafood specialty restaurants. Lighter options are always available in our snack bars. Treat yourself to a sweet craving with our desserts, ice cream, and coffee varieties.
Grand Park Royal Puerto Vallarta is surrounded by beautiful scenery. Our pergola facing the sea is ideal for lovers ready to say I do, and celebrate a wedding by the sea, or have a wonderful honeymoon in Puerto Vallarta.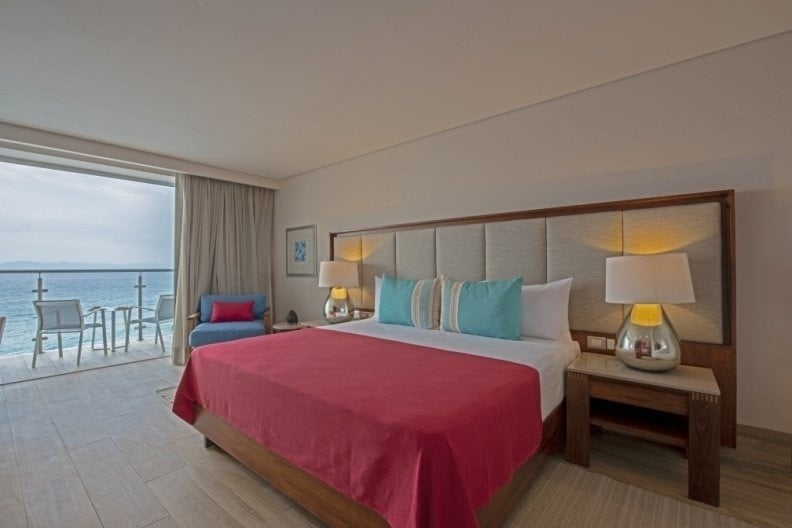 The paradise you deserve
Stroll along the exclusive and glamorous Marina, a 10-minute walk from downtown. The Malecon is a must-see, a promenade full of art and history almost a mile long. Browse the many galleries, restaurants, shops, and bars, watch the sunset from the arcs or enjoy the beautiful sculptures facing the sea. The Romantic Zone, Cuale Island, the Main Square, and Our Lady of Guadalupe Cathedral are attractions you can't miss.
Enjoy the best of Puerto Vallarta
Puerto Vallarta has a tropical climate with two seasons: dry and humid. The temperature is pleasant year-round, it is always possible to enjoy beach activities or tours. Whale watching season is from December to April.
There are many colorful traditional celebrations throughout the year: Carnival in February, the Cultural Festival in May, or the Day of the Dead in November.
Puerto Vallarta has everything for an unforgettable vacation. At Grand Park Royal Puerto Vallarta, we have the perfect place for you, surrounded by mountains and only 15 minutes away from the Malecon. We are expecting you!