Tips for celebrating your outdoor wedding
Weddings
29/06/2023
Do you want to celebrate your
wedding outdoors
? Mexico is one of the most popular countries for this type of wedding, due to its natural landscapes, good weather, and variety of locations to celebrate this type of event.
The
beaches of Mexico
are a unique destination for outdoor weddings. Its crystal clear waters, white sands, marine fauna and vegetation make it an incomparable, natural and romantic setting for weddings.
The old
colonial Mexican haciendas
are an ideal place to celebrate outdoor weddings with a rustic and traditional touch. In states such as: Yucatán, Jalisco, Guerrero and Sinaloa, you can find haciendas with large gardens and patios, where you can celebrate an unforgettable wedding.
What is the best decoration for my outdoor wedding?
The choice of decoration for an outdoor wedding will depend on the style of the wedding and the space where you want to celebrate it. The most important thing is that the decoration reflects the personality and style of the couple, make sure to choose elements that make them feel comfortable and happy. However, we give you some ideas, so that your outdoor wedding is a success:
•
Natural elements
: use branches, leaves, pine cones, shells, rocks, and logs to decorate the space and/or to create centerpieces, flower arrangements, and decorate the altar, chairs, and/or tables.
•
Furniture
: you can combine natural elements with cushions and blankets, for example, choose a wooden bench with several cushions and a blanket for more comfort and warmth.
Lighting brings your outdoor wedding to life
Proper
lighting
can generate a magical, pleasant, memorable, warm atmosphere... therefore, choosing it can make a big difference in creating the atmosphere you want for your outdoor wedding.
•
Garlands of lights
: you can hang them on trees, poles, tents and other strategic places, to create a magical and welcoming atmosphere.
•
Candles
: create an atmosphere with a romantic touch using various types of candles, place them in glass jars, lanterns, candlesticks, tables and / or paths.
•
Spotlights
: it is a more subtle way to illuminate your outdoor wedding, you can place them on the ground or in the trees to design a warm and pleasant atmosphere.
•
Torches
: they are ideal to place them in the paths, entrances and other areas, to guide your guests.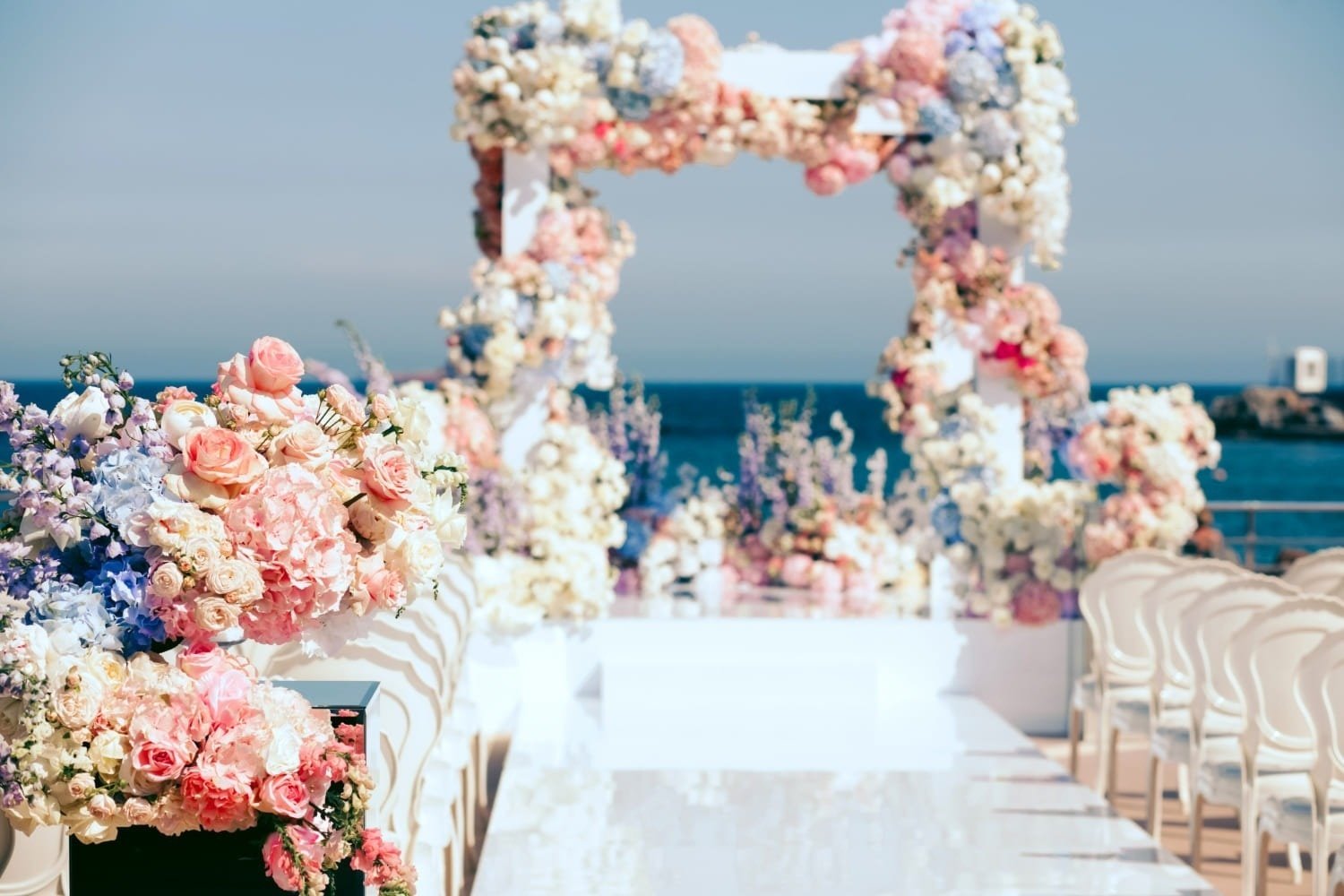 How to decorate your outdoor wedding altar?
The altar is one of the
most important elements
, since it will be the place where you will exchange your vows and get married. The choice of decoration will depend on the style you want for your outdoor wedding. We tell you some, which you can use as a
unique style or combine
them with each other:
Flowers
are the most popular decorative motif, you can use fresh or dried flowers, leaves, branches and other natural elements to give it a cozy and romantic style.
The
fabrics
can add a soft and elegant touch to the decoration of your altar, for this you can use curtains, light and translucent material fabrics, sheets and/or handkerchiefs.
Other details to take into account at your outdoor wedding
They could not miss the
dessert tables, chill zone and fotolog
with signaling of colored lights or sounds. All these details will give your outdoor wedding the necessary entertainment and fun so that your guests have a fun and wonderful time.
We organize your outdoor wedding on a paradisiacal beach
Park Love
is the exclusive wedding service of
Park Royal Hotels & Resorts
, which offers a personalized and unique experience for couples looking for the best places to make their dream wedding come true in an unforgettable setting.
Do you already know where you want to celebrate your wedding? Our team of professionals has a wide variety of organization options, from a ceremony on the beach to a celebration in an event room.
Park Love organizes the wedding from start to finish, offering special services for the bride and groom and their guests, and exclusive benefits for the newlyweds. Also, if you wish,
we can organize your honeymoon for you!
Our team can plan your wedding at one of the following resorts with access to paradisiacal beaches:
•
Grand Park Royal Cancún
•
Grand Park Royal Cozumel
•
Grand Park Royal Puerto Vallarta
•
Park Royal Beach Huatulco
•
Park Royal Beach Cancún
•
Park Royal Beach Ixtapa
•
Park Royal Beach Mazatlán
•
Park Royal Beach Acapulco
All of them offer different capacities and types of rooms, a variety of services, entertainment for all ages and unique offers for the couple and their guests.
Choose the destination to celebrate your wedding outdoors, on the beach and we'll take care of the rest!